There is nothing better in NASCAR than the back markers of the series arguing with one another. Week after week they're racing each other, frustrated, annoyed and pissed they just got lapped for the 12th time. Unlike the front runners these guys don't have major corporate sponsors they need to appease.
Insert Brandon Brown and Mike Harmon, perenial back markers. One is a young guy trying to make it in the sport. The other is an old man 13 waist sizes bigger than he should, wearing sunglasses from the Matrix, and constantly wondering if he is going to have to steal Jennifer Jo Cobb's cars again.
Brandon is apparently mad online that Harmon will be in the Xfinity series this year based off a twitter picture of a Camaro Xfinity car. Harmon ran nearly the full Xfinity schedule in 2017 minus the road course because Mike Harmon is a god damn American and turning right is for pussies and communists. So Brandon dropped this jab in there.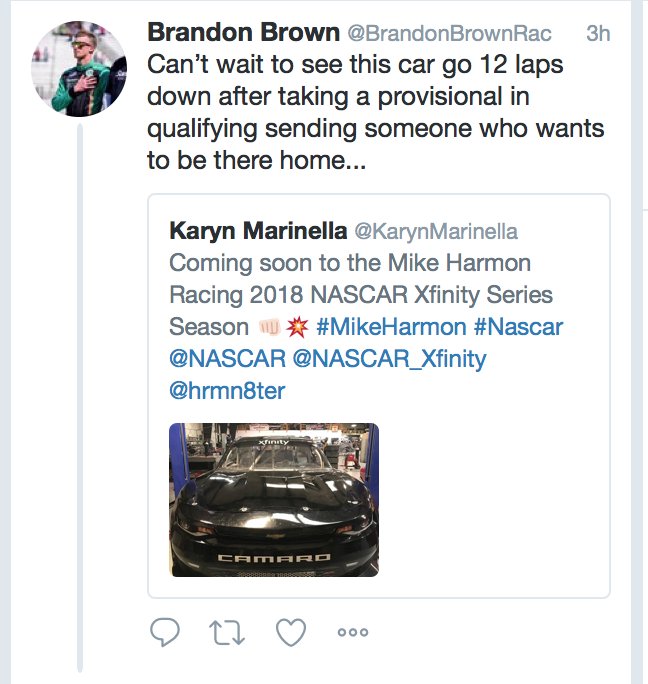 Brandon throwing shade is an interesting approach considering his Xfinity Series career isn't exactly newsworthy outside of this little Twitter scuffle. Suggesting Harmonator doesn't want to be there is a bit rude. Most people don't drive across the country barely getting by because they don't want to be there. Brandon is mad though and it's cool because Mike Harmon will never see this.
Aw damn. The Harmonator's response.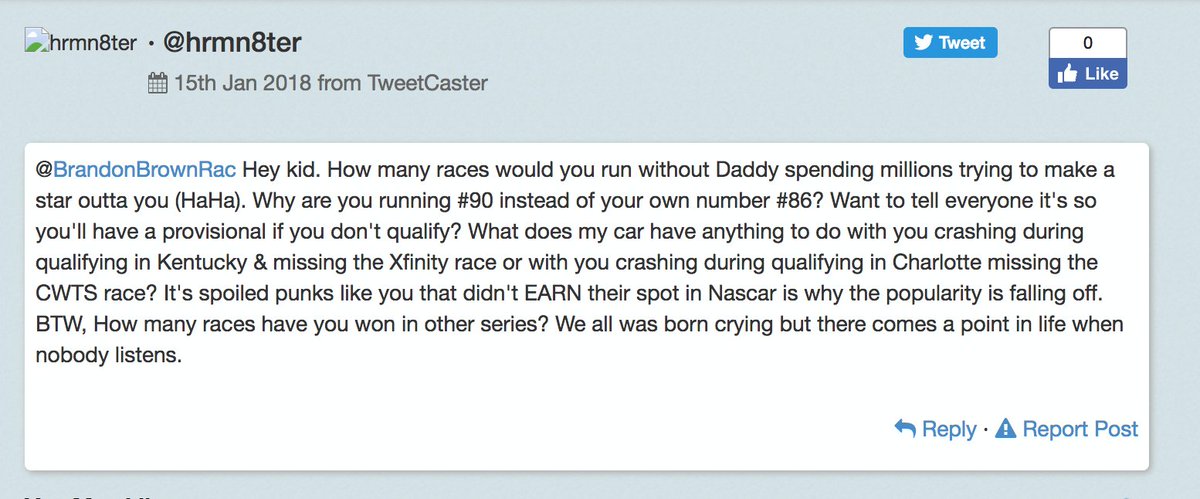 You know that gif of all those guys standing around and they're going insane and that one guy is just looking at the camera like "fuck yeah"?
This one
That's Mike Harmon and we're all the guys losing our minds right now. The Harmonator is going back to court for murder in the first degree and he doesn't give a damn.
Harmon is out here spitting facts with those Twitter fingers. Brandon Brown's dad does in fact fund his racing career. Brandonbilt Motorsports isn't just a coincidence he and his father came up that catchy name. Brandon is also running the #90 for the provisional this season, something he was blasting Harmon for.
Brandon Brown isn't a top tier NASCAR talent. Well actually Kyle Busch has crashed in qualifying before, Jimmie Johnson as well. Maybe Brando is on to something here.
And finally Harmon hits him with the rich spoiled kids line straight out of Tony Stewart's mouth. Get him, Harm!
Brandon Brown really hasn't earned his spot in the sport in the eyes of the old standard. His racing reference page is void of any results in lower level series. No K&N starts, no ARCA starts, no CARS starts. He was a kart racer and a Whelen All-American driver were he won a race supposedly. Other than that he's the new standard in NASCAR, a driver backed by his parents pocket book.
Mike Harmon is never going to win a NASCAR race but that crazy SOB is out here commanding respect in these internet streets. Brandon later apologized on Twitter saying he "didn't mean to single out Harmon" which is interesting considering he specifically called out Harmon.
NASCAR will have a hundred Brandon Brown's but there is only one national treasure like Mike Harmon left.
Follow us on Twitter @ApexOff