Noah Gragson teased NASCAR fans on Wednesday when the 2-time Xfinity race winner posted this on Twitter:
Subtle, low key, mysterious.
Gragson signed something on Wednesday, he took to Instagram live Wednesday night where he teased his viewers for the better part of 15 minutes. Gragson did admit what he signed had to do with racing and it was very important to a lot of people. He went on to say he never thought it would happen to him in his life.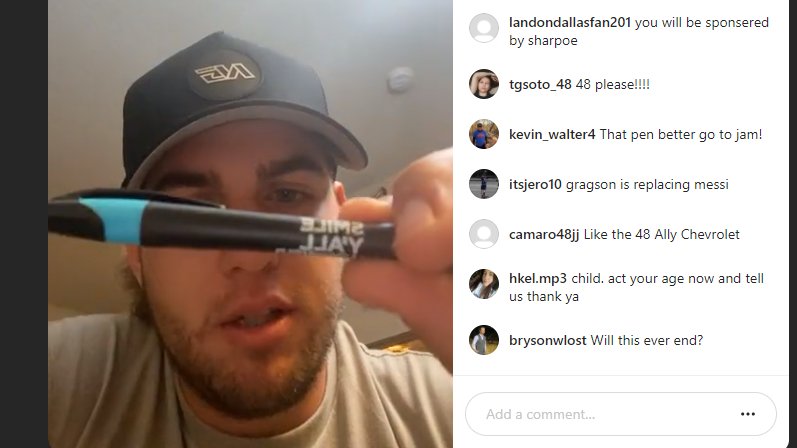 So, What Could It Be?
"I never thought it would happen" has to mean he signed a deal for a 2021 Cup Series ride. Gragson wouldn't say that if he re-signed with JRM for the 2021 season. Noah successfully teased everyone who tuned in hoping the normally loose lipped driver would let his future destination slip.
Since Noah didn't tell anyone where he went, let's take some guesses as to where he'll be in 2021.
#37 JTG-Daugherty Racing – Ryan Preece has had a godawful year in 2020. From crashes to mechanical problems Preece has been one of the most unlucky guys in racing. All signs indicate he won't be back in 2021. JTG's cars are fully funded meaning Gragson wouldn't have to bring sponsorship. A team of Ricky Stenhouse and Noah Gragson could provide a great 1-2 punch of "wtf moments" though.
#32 GoFas Racing- We all know Corey LaJoie is gone. Noah brings a little money, not the amount he used to but potentially enough that would entice GoFas. This seat seems destined for a Ford development driver though.
#42 Chip Ganassi Racing- The seat is open but it appears Chip has eyes for other people.
#48 Hendrick Motorsports- This was the most popular guess in the chat and online. Let me say this unequivocally there is no chance Noah Gragson is the next driver of the #48. HMS has their hands full with their current lineup, adding a rookie with no Cup experience while trying to rectify a plethora of performance issues would be ill-advised.
Congrats to Noah Gragson on landing the JTG ride.
Follow us on Twitter @BrakeHard_