NASCAR has sent a tentative schedule to teams outlining how they plan to cram the remaining 32 races of the season into the rest of the year. The Athletic obtained a copy of the tentative schedule and it is PACKED.
The series plans to resume racing Memorial Day weekend and still plans to end the season on-time November 8th at Phoenix Raceway. It's a lofty goal but so far appears to be the most realistic approach to getting back to racing.
Here is the schedule that has been sent to teams.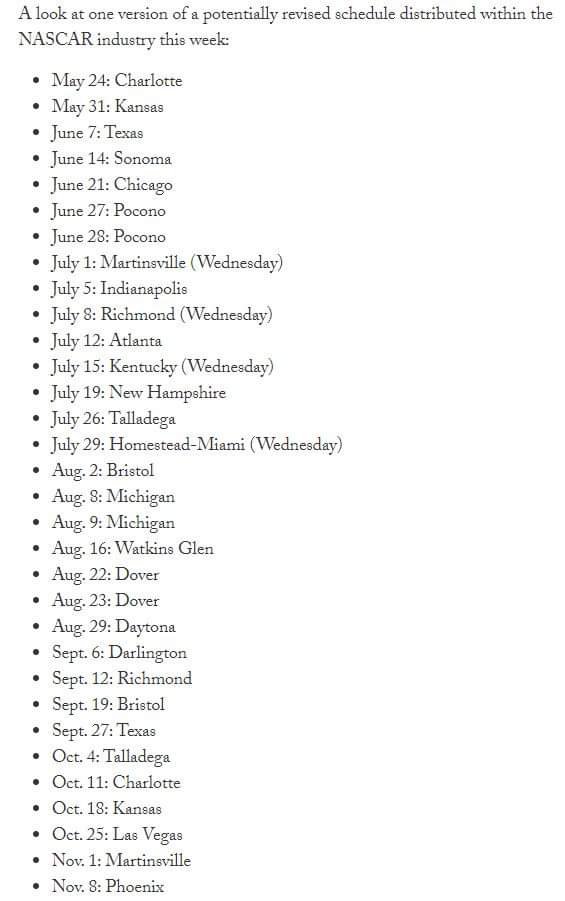 The Breakdown
There's a lot to digest here, numerous races are swapping dates, weeknight races, doubleheaders, all of it is in play here for NASCAR.
Weeknight Races
July 1: Martinsville will get their night race, finally. It will just be on a Wednesday night after the series holds its first doubleheader at Pocono and before they head to Indianapolis.
July 8: Richmond's first race this season was supposed to be a day race, that's not happening as they go under the lights on a Wednesday.
July 15: Kentucky gets moved to a Wednesday night. NASCAR has held Thursday night Truck Series races at Kentucky in recent years and it's worked out alright.
July 29: Homestead-Miami is back on the schedule assuming Florida even still exists in July.
Doubleheaders
Pocono was originally supposed to be the only doubleheader (June 27/28) on the 2020 NASCAR schedule as the series looked at ways to compress the schedule but keep the same number of races. Thanks to COVID-19 we get two more doubleheader weekends.
Michigan will be a doubleheader on August 8th and 9th.
Dover will also join the doubleheader gang on August 22nd and 23rd.
Other Date Changes
June 7: Texas takes Michigan's first race date. IndyCar is scheduled to race at Texas June 6th so it appears another doubleheader is happening.
July 12: Is now Atlanta's date which was originally Kentucky's scheduled weekend.
July 26: Originally an off weekend for NBC to cover the Olympics, NASCAR will be in Talladega.
August 2: Another Olympic off weekend is now Bristol's first race.
Other Series
NASCAR hasn't yet announced if the Xfinity and Truck Series will follow this same schedule, they'd almost have to. But at places like Kentucky, Bristol and others that will be hosting all three series on the same weekend makes scheduling a nightmare. In theory, NASCAR could show up, qualify in the morning and run all three races back to back to back on the same day. Noon start time, 3 PM start time, 7 PM start time. It'd be a jam-packed day but it's possible.
Follow us on Twitter @ApexOff