Death, taxes, NASCAR changing the All-Star Race format.
Another year, another format change to the All-Star format. In an effort to confuse fans more the governing body announced today the new format would be four segments with a 15 lap final segment and no mandatory pit stops. Got it? If not here is a nifty info graphic they put out with it.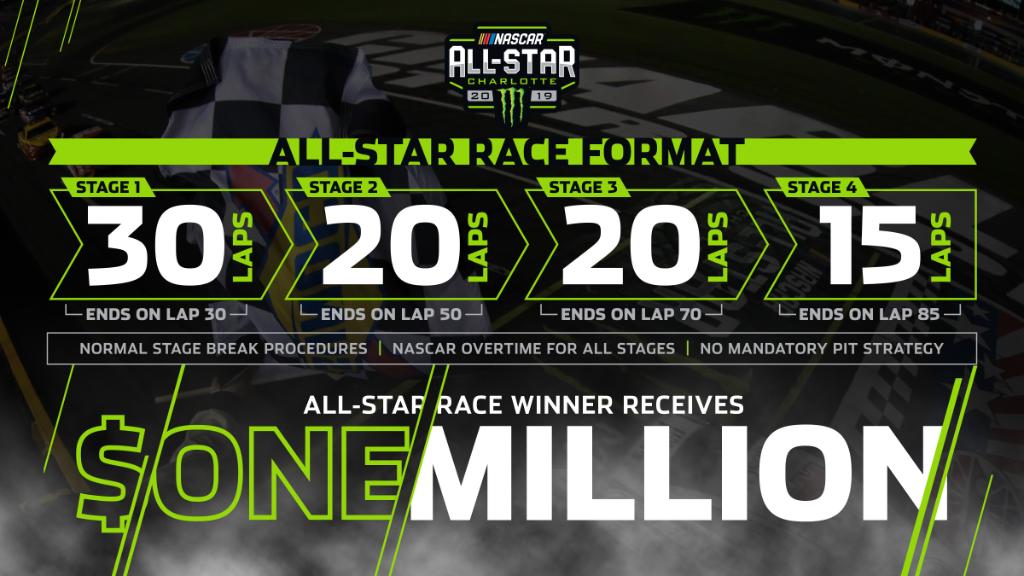 Once again this season each of the segment winners from the open race aka all the non-winners will advance to the All-Star race. Three drivers will advance from wins in the Open, another will advance from the fan vote. For you mathematicians that's 4 drivers that will join to "All-Stars" for the money race. Which is still $1 Million dollars and NASCAR seems to think fans care about that for some reason. It's been $1M since Jimmie Johnson won it in 2003. Maybe bump it up or even just stop telling us rich guys are getting richer.
That's the format, learn it, love it, don't forget it.
NASCAR Makes Aero Changes, Kind Of Admits Current Package Stinks
NASCAR also announced aero changes in addition to format changes. Last year at the ASR the sport introduced restrictor plates, air ducts and larger spoilers to 1.5-mile tracks. That experiment led to the 2019 aero package the Cup Series currently has.
For this year NASCAR is introducing a new single piece splitter/pan that should help ride height sensitivity and aero push in traffic. Also added are new aero ducts which will allow the air to exit out the hood instead of into the engine compartment like it currently does. The belief is this will separate aerodynamic performance and keep the engine cooler because apparently that's a problem.
The 2019 package hasn't produced the results that NASCAR necessarily wanted so far. Outside of Texas most of the loop data has been the same or a little worse than previous years. This is a subtle way of saying "we missed the target" but without admitting it. All while hiding it under the guise of "this could be part of the 2021 package" but also could introduce it this season.
Same Year, Same Thing
The All-Star Race has become rather meh in recent years. The $1M prize is overplayed, the racing has been really lack luster, there is no drama anymore. It's one of those races if NASCAR did away with you'd be completely fine with.
Unless they changed tracks, if that happened it would breathe new life into the event and could save it. Keeping it at Charlotte though is the wrong more. It's just one slow death and we're all screaming at it "just die already!" but it won't.
Follow us on Twitter @ApexOff