Have I traveled to every NASCAR track? Absolutely not, but that isn't going to stop me from ignorantly ranking them for worst to first. Based on my knowledge of the state/city these tracks are in combined with the demographics, geographical stereotypes, quality of racing and the track itself I have compiled a comprehensive list. Staunch supporters of certain tracks will be mad about their rankings but that's on you for liking terrible tracks/living in a bad state. Plus you're probably a Martin Truex Jr/Kevin Harvick fan and complain about everything. For everyone else, here is your list.
24) Kentucky Speedway
Full disclosure, Kentucky Speedway is the closest NASCAR comes to my home in Cincinnati but that isn't going to stop it from being last on my list. If it wasn't for free passes and a catch fence separating us from the creatures in the stands there is no way on Ken Ham's earth I'd be there. Sparta, Kentucky is great if you want to be neighbors with someone hiding out from the cartel. One other thing it's great for is looking at some saggy titted strippers (RIP in peace Racers). Built in between Cincinnati and Lousiville it is quite literally in the middle of nowhere. Drivers hate it, fans hate it, I'd say Kentucky hates it but by the look of the stands, they've forgotten about it too. Every race weekend in July it will inevitably be 100 degrees with 85% humidity ensuring that you sweat through your shirt like Fatback McSwain climbing up the pit box. No worries though, creatures like the one above are more than ready to show off some skin for daddy.
Pros: It's close to my house. The girl in the media center is really helpful.
Cons: Single groove racetrack, 1.5-mile cookie cutter, they let Darrell Waltrip design the garage (look at the satellite image), typically hot as the devils' dick, the creatures that come out of the rolling hills of Kentucky.
23) Texas Motor Speedway
"Everything is bigger in Texas" except for their race track and their crowd sizes. Track President Eddie Gossage refuses to admit his track stinks out loud and that it's only 1.44-miles instead of the advertised 1.5-miles. Texas Motor Speedway ranks about 67th on the list of sporting events Texans care about behind Rice v. Troy in basketball. Much like everything in this stupidly oversized state Texans take too much pride inside their imaginary line border and someone is going to be mad about this ranking. Take your dip cup, hop in your lifted F-250 that has never seen mud, grab your gun and sit on the front porch of your house in Grassland with your Texan pride and watch Big Hoss because no one gives a shit. The only good thing to come out of this state was Texas Terry and Tom Herman's "Ok Cool. Hook 'Em" text. Other than that you give them horns down and let them mate with other Texans.
Pros: Jeff Gordon fought Brad Keselowski there once. Home to a NASCAR royal's first win.
Cons: Single groove, Eddie Gossage, generic design, it's in Texas.
22) Kansas Speedway
Kansas isn't flat like everyone one says but it is boring as riding your horse in RDR2 and nothing exemplifies that more than Kansas Speedway. It's the missionary sex of race tracks. Nothing exciting just the tried and true, you never leave that satisfied but it still happened so you're content. There's a suburban strip mall behind the track where you can enjoy the local cuisine of Panda Express. Kansas Speedway represents the last slice of civilization before Topeka and the last bit of excitement before Denver. Unless of course, you count the stretch of highway that started the interstate system in the States as excitement which native Kansans do. Just ask Clint Bowyer.
Pros: It set up the Logano/Kenseth fued, Jeff Gordon won the first two races here, that's it.
Cons: It's in Kansas, it's a 1.5-mile track, very follow the leader, has two dates, did I mention it's in Kansas?
21) Charlotte Motor Speedway (Oval)
We're supposed to act like Charlotte matters because all the teams are based around the track and it has a decent long history. Charlotte sucks though. A no passing track with asphalt that hasn't aged since it was laid down 12 years ago combined with 600 miles of parading will only increase your chances of an aneurysm after sitting in 77 traffic. The best race at Charlotte was the 2005 Coke 600 after they levigated the track. "What about One Hot Night?" What about it? Kyle Petty tried to kill Davey Allison, yeah I said it. Love Kyle but come on man, dude tried to make Davey one with the cement. At least they have a huge video board and condo's from the '80s above turn 1 to boast about while they convince everyone Charlotte is this progressive town and not in a pretty overtly racist state.
Pros: long history, lots of Coke products if you're into that, centrally located for teams.
Cons: Some of the most boring oval racing this side of Kentucky. Traffic. They make you say the pledge of allegiance before the race which is weird.
20) Dover International
Majority of Americans think Delaware is just part of Maryland based on a scientific study we conducted. Dover is a 1-mile high banked concrete track that puts on one good race a decade. This decade's happened in 2015. The entire state/track is a complete afterthought for most fans out there. Dover could disappear off the calendar in 2020 and it'd take most fans until 2026 to realize it got bounced. Did you know the track drops SIX stories going into turn 1? Fox tells us that shit like we're kindergarteners and don't have eyes. It dips sure, but six stories? I don't believe you for a minute Matt Yocum.
Pros: Joe Flacco came from Delaware which isn't racing related but it's still something.
Cons: It's concrete and should be asphalt and races are generally boring. The horse track in the infield would actually put on a better race than the high banks. Bring back the asphalt.
19) Indianapolis Motor Speedway
Nestled inside a wasteland of low income/crime-ridden neighborhoods likely littered with various meth labs sits the beautiful Indianapolis Motor Speedway. Home of The Indianapolis 500, the greatest race in the world. The Brickyard 400 is potentially the worst race on the NASCAR calendar. Attendance was once over 300k for this race, last year they were lucky if it cracked 40k. It might be the regular season finale but that doesn't spice things up. Putting a spoiler on your Camry doesn't make it not a boring Camry. If it wasn't for that silver brick you get for winning and the name Indianapolis it'd be one of the bottom three.
Pros: The Indy 500, fantastic facilities, Doug Boles
Cons: The track was built for IndyCars, not stock cars. We need to stop acting like this race matters.
18) Pocono Raceway
Mountains, heart-shaped bathtubs, honeymoons and probably those coin-operated vibrating beds. All of that screams NASCAR racing so the series makes two visits to the honeymoon capital (only people from West Virginia honeymoon here) of the United States. A 2.5-mile triangle with three different corners is home to 800 miles of Cup racing a season because Brian France and company hate us as fans. And the races are separated by 5-6 weeks because again, fuck us. "It's NASCAR's most unique race track." Yeah sure but it's not unique like a Jackson Pollock. New York City is only 2 hours away and most of you just learned that Pennsylvania is close to New York City. Pocono's grandstand is a collection of yinzers, Philly trash, and New Yorkers who got free tickets and immediately regretted checking out the race.
Pros: Every now and then you get an exciting race.
Cons: Each race is 400 miles. They used to be 500.
17) Michigan International Speedway
The decrepit and desolate home of the Big 3 (even though Dodge doesn't race in NASCAR anymore we keep them here in spirit) hosts two races a year on their single groove race track. If you survive the Michigan roadways getting to the track you can look at where thousands of grandstand seats once stood as the field flies past you single file like ants leaving a picnic party. Roger Penske built the place and much like everything Roger does it's not exactly exciting but it's purposeful. Michigan is the starch shirt of race tracks.
Pros: Provided for good races before the repave.
Cons: Two races a year is a bit much.
16) Las Vegas Motor Speedway
Between the Casino references and horrible puns about gambling, Las Vegas joins the list somewhere near the middle. A high banked oval with some bumps definitely gave their first fall race some character as half the field seemingly spun out. Outside of this fall, most races are pretty ho-hum unless Kyle Busch is looking to play Mike Tyson on Joey Logano's face. The "Neon Garage" (get it?) have a second deck for the fans to look down on the cars and crew chiefs hate that. EDC happens here which likely outnumbers all NASCAR events at the track combined.
Pros: Las Vegas, warm, probably the best looking crowd around.
Cons: It's hotter than anything the Hot Ones puts on wings.
15) New Hampshire Motor Speedway
I'll be honest I forgot New Hampshire was even on the schedule so I just tossed it in the middle of the list. The granite state is home to only one NASCAR race these days and even that is too many. Sure you get a Lobster if you win but it's alive. I prefer my lobster to be in a roll because I'm sophisticated enough to eat lobster but not pretentious enough to partner it with a steak like an asshole. A flat 1-mile track doesn't exactly scream excitement but every now and then NHMS produces a decent race. Some guy with an eagle in his avi is going to comment about how great the modified race is here. Fantastic. Brian Vickers last NASCAR win happened here. There were only three but still, it did happen here. Ward Burton won here in 2002 as well, very weird. Oh, Jeff Burton led every lap once because they used restrictor plates out of safety not because they wanted to bunch the cars up.
Pros: It's different? Maybe.
Cons: It is in New Hampshire, it's a flat 1-mile track, it's in New Hampshire.
14) Richmond Raceway
"It's just a smaller Kentucky" as one retired driver once not so famously said. It's too fast to be a short track and too short to be an intermediate but it's definitely not a short track. The days of Kevin Harvick jumping on cars and throwing water bottles are gone. Unless of course, you count Marcos Ambrose hitting Casey Mears as something equivalent to that. Richmond has been a snooze fest in recent years. Outside fo Carl Edwards bump and run not much happened. I take that back, in like 2014 one of the races was great with the Top 4 battling for the win like Brad K, Logano, Gordon and someone else. One time Kyle Busch wrecked Dale Jr here and needed a police escort.
Pros: Can't think of one
Cons: too fast, too boring, d-shaped, snoozer, in Virginia.
13) Phoenix Raceway
"The Diamond In The Desert" which should mean a pretty jewel, not a 1-mile hybrid. Phoenix was better before they reconfigured the track, moved the grandstands and tried to convince everyone that moving the start-finish line was going to make the racing better. Kevin Harvick has established residency here and the neighbors are tired of his complaining. Every now and then Phoenix gives you some weird shit. Like Clint Bowyer running faster than Forrest, Ryan Newman actually winning a race, Chase Elliott running Denny Hamlin's championship hopes laps after he passed him. It's a weird place.
Pros: Weird shit happens, looks warm.
Cons: sometimes the races flat out stink.
12) Chicagoland Speedway
Jake and Elwood put Joliet on the map and the speedway didn't capitalize off it at all. They call themselves Chicagoland and that's like Bakersfield calling themselves LA Land. You're Joliet don't lie to yourselves. Not many memorable things happen at Chicago in all honesty. Justin Labonte won here in the Busch Series once, a giant orange wreaked havoc.
Like a fine wine though Chicago has gotten better with age. This season we saw a multi-groove race track and one of the best finishes of the decade between the Kyles. For that reason, it has jumped up the list until they repave it and ruin it like Kentucky. I imagine the mix of fans is interesting. You have the people from Chicago but then you're pulling people from rural Illinois and places like Iowa and northern Indiana. Like Cubs fans and White Sox fans coexisting with Bud Lights and NASCAR.
Pros: aged surface.
Cons: 1.5-mile track.
11) Atlanta Motor Speedway
When Atlanta gets repaved it's dropping to 22nd on the list until then it clocks in at #11 because it has asphalt older than Zion Williamson. The surface is so worn cars just slide through the corner, not quite Tokyo Drift style but DK would still be proud. Kevin Harvick started his career on this surface, he got his first win on this surface. How long can I talk about asphalt? Strap in.
But really Atlanta puts on a hell of a show, they ruined it by giving it that terrible dog leg nonsense like Charlotte. When they repave the track they should rebuild the track in its former layout. Mainly because it would make another Homestead and we all need that. Atlanta is forgotten about though, it's the second race of the season the weather is okay at best and everyone is still hungover from the Daytona 500 listening to the Migos. When they repave the track and inevitably ruin it NASCAR should head to Road Atlanta.
Pros: great surface
Cons: it's in Atlanta, kind of.
10) Daytona International Speedway
By far one of the nicest facilities you could ever go to into Daytona International makes nearly every NFL stadium look inferior. Stop calling the gates "injectors" though. "You're going in the Axalta injector" dude just call it a gate, it's 2 AM I'm not in the mood for this I just want to watch some sportscars pound around. Fun story, the first time I went to Daytona Beach a hobo stabbed another hobo right outside our condo on the boardwalk. Cops came, yellow tape, the knife, blood. It was a whole thing but it was all very Florida.
I guess we should talk about the Daytona 500. It's a race, it's 500 miles, someone generally lucks into winning but everyone continues to put so much value into winning it. Every February FOX will tell you about how great the 1979 Daytona 500 was. I mean they will literally shove it into your eyeballs and earholes whether you want it or not. There have been far better races than that but you know, that snowstorm on the east coast made NASCAR. Overall the racing is great and the facility is top notch.
Pros: literally the nices race track you'll go to. There are racecars hanging from the ceiling. Ney Smyrna is right down the street and you should check that out too.
Cons: It's in Florida.
9) Auto Club Speedway
Formerly known as California Speedway this 2-mile Penske oval in the middle of an industrial park on the outskirts of Los Angeles has gone from one of NASCAR's worst races to one of the best. Not only has the track aged well to create multiple lines, Toyota also installed a radar gun and screen entering Turn 1 to show us how fast cars are going. Not that it matters anymore with the 2019 package but it was fun for a few years. It's in LA so it always looks nice there other than that one time it rained for 3 days and most of the garage was convinced Noah and his ark were going to show up. Jokes on them, the Ark is in Kentucky just ask Brad K, he saw it. Strange things always seem to happen at Fontana. The Joey/Denny thing, Tony v. Denny, a lot of things.  NASCAR gets a lot of "influencers" to come to the race and none of them do anything to help grow the sport but it makes NASCAR execs feel good so that's nice. Definitely one of the best-looking crowds as a whole.
Pros: fantastic racing, radar gun, smokeshows.
Cons: influencers
8) Sonoma
About 5 hours north of Fontana sits Sonoma Raceway in the rolling hills of Northern California wine country. If you can fight bay area traffic to make it to the track it's one of the best in North America. NASCAR races here in the summer when it's hot as balls and the grass looks like it's one spark away from a wildfire. NASCAR on road courses has grown massively in popularity recently and it was only aided by the Tony Stewart win here in 2016. Somehow this race has never been protested by the lovely people in Berkely. It's astonishing really that a bunch of V8 gas guzzlers can keep having a race here. Ever been to the Bay Area? Not exactly fans of that sort of thing.  Overall Sonoma recently has become a rather ho-hum race that is too structured thanks to stage racing but in 2019 they're running the carousel again and for that we thank them.
Pros: road racing, running the carousel
Cons: strategy matters more than speed
7) Charlotte Roval
Sometimes you gotta take a chance, Columbus did so fuck it, they went for it. And it absolutely paid off for Marcus Smith and company. It didn't start like the crazy race we all thought it was going to be but it certainly ended like it. The Roval could have been a colossal failure on the same level as Casey Atwood but it wasn't. What we watched this fall was better than any oval race at the speedway in the last decade. Now next year keep the backstretch chicane tight, that would have made the racing better.
Pros: It fucking worked.
Cons: don't make the track easier.
6) Darlington Raceway
Easily NASCAR's most historic track and a better overall test of man and machine   "The Lady in Black", the "Track Too Tough To Tame" should be at the top of everyone's list. One side is smaller because of a minnow pond which the broadcast will be more than happy to tell you about. The surface is finally returning to its abrasive self and annihilating tires and tire drop off. It's one of the most complete tracks on the circuit and we wouldn't change a thing about it. Other than the quasi-racism that happens in the infield each Labor Day. At least this gives Carolinians something to enjoy before Gamecock football ruins their fall. *whispers* Winning the Southern 500 is actually more impressive than winning the Daytona 500. 
Pros: fantastic race, a crown jewel
Cons: Confederate Flags, "it's not hate it's heritage" ok, Richard Spencer.
5) Bristol Motor Speedway
Old Bristol was great, repaved Bristol sucked, now new Bristol with the traction compound may be the best Bristol ever. The night race in 2018 was potentially the best/most complete Bristol race I've ever seen. It had passing, multiple leaders, unpredictability, CARS PASSING CARS ON TRACK, and a good finish. Downside it's in the middle of no where Tennessee really close to Virginia where you probably got a speeding ticket for doing 64 in a 65 on your way to the track. It seats 160k people so getting a ticket isn't hard. You need to go once, after all it is the "last great colusseum" in case @NASCAR hasn't told you.
Pros: fantastic racing, short track
Cons: In Tennessee, you'll hear Rocky Top enough times you think you graduated from UT.
4) Talladega Superspeedway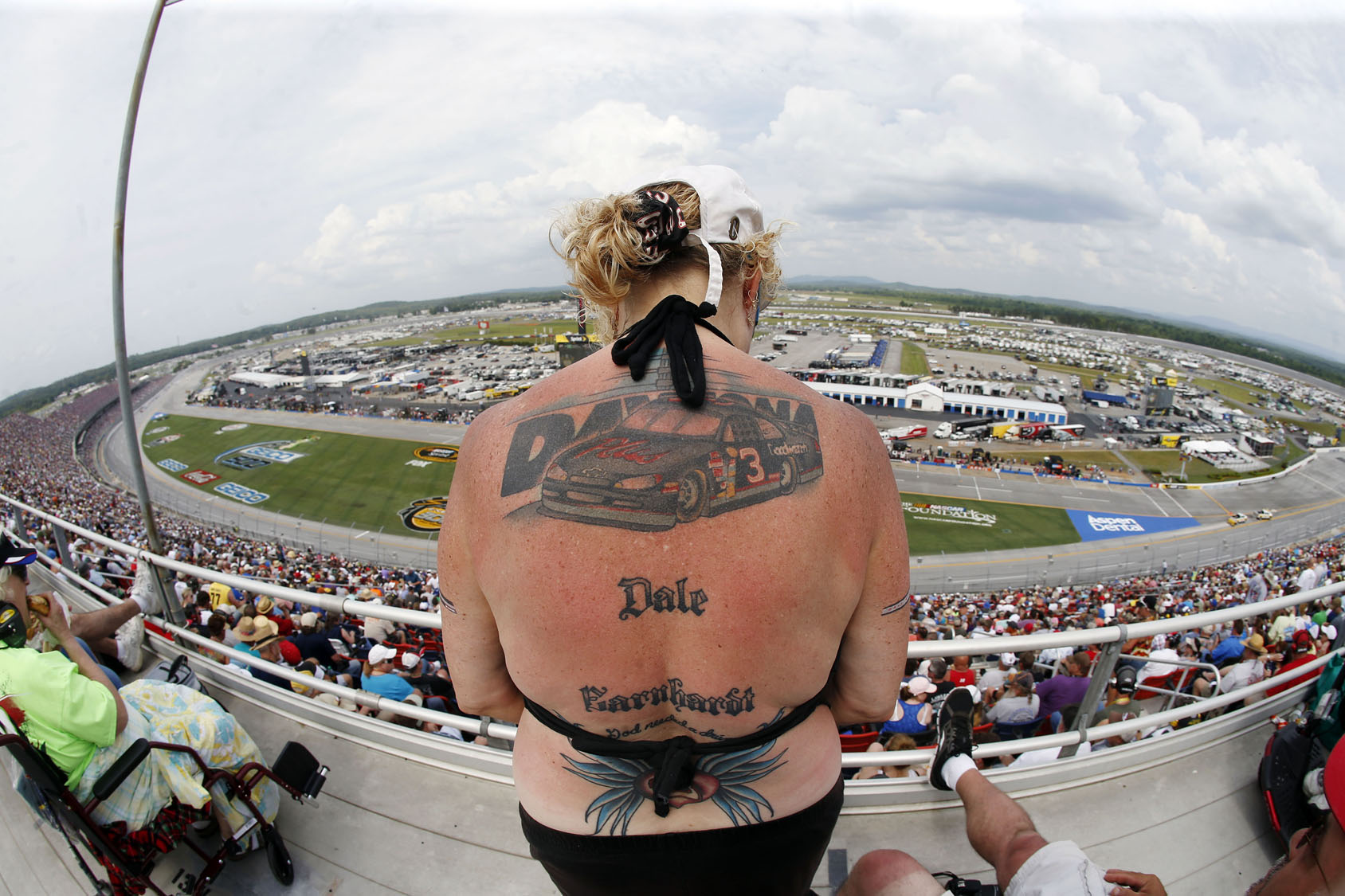 Dale Earnhardt Jr. is the preacher and this was his cathedral. JR. Nation packed this place out and made it louder than any stadium you've ever been in. Waving their hats and point him in the direction the other 42/39 cars were going for 188 laps. You have to give them some leeway though, this is Alabama after all where they rank #47 nationally. For those who are geographically inept, that's 4th from last in the country.
Talladega typically always delivers an exciting race unless the 4 Stewart Haas cars get lined up or it's 2003 and DEI is still walking around like the big swinging dick at the cracker factory. Most of the time though you get a decent race and sometimes a random winner. Ok maybe only twice in the last decade but it's still fun to watch.
Pros: people watching is second to none.
Cons: typically wreck a lot of race cars, Roush Yates Engines, sometimes you see cousins making out
3) Martinsville Speedway
NASCAR has been racing here since 1948 the year NASCAR started and it's not a coincidence that race happened on July 4th. Short track racing and America go hand in hand like Budweiser and bald eagles. It's one of the most unique tracks on the schedule and you get a grandfather clock? Ever live in a house with a grandfather clock? Talk about the most annoying piece of furniture you can own.
Martinsville always delivers though. Whether it's Kenseth destroying Logano, Martin Truex complaining, a fatter version of Bam's dad trying to fight Denny Hamlin or Jeff Gordon winning, Martinsville puts asses in the seats (or on your couch.) Sure sometimes the track comes apart, NASCAR can't figure out the running order and FOX says "paperclip" entirely too much. But these are still two must-watch races every year.
Pros: short track racing, unpredictability
Cons: a night race would be badass. Walking the hills to get the track can be annoying.
2) Watkins Glen International
Have you watched a race from here in the last like decade? Watkins Glen continually puts on some of the best races year after year. Whether it's because NASCAR refuses to throw a caution for oil or the fact that two guys are just so evenly matched the duel is riveting, the races here have been top notch.
Combine that with the lush upstate New York countryside, packed grandstands, trees, camping and everything else that comes along with road course racing and you have a hell of a setup. Even the liberals like to go right every now and then.
Pros: right turns.
Cons: they don't run the boot. 
1) Homestead Miami Speedway
You're probably thinking "how the hell did a track in Florida get the #1 spot." Well, let me tell you, Randy. Miami-Homestead is situated south of Miami, you didn't even know that was possible. It's easy to get to, the parking is plentiful, the sunshine is abundant, the beer flows like wine, the cocaine piles like Colorado snow and the racing is second to none. That's why Homestead is number 1.
At this track, the driver matters as much the car. A good driver can make so much time at Miami. There are so many different lines you can take. The place almost races like a dirt track and that's exactly what NASCAR needs right now. Not to mention a champion always gets crowned at Homestead so that's pretty decent too.
Pros: Fantastic weather and racing
Cons: It's in Florida
Follow us on Twitter @ApexOff