NASCAR's social media team is back at it again this season. As the Cup Series heads to the playoffs NASCAR announce each playoff driver will have their own dedicated hashtag and emoji once again this season.
And once again most of the hashtags stink out loud and the emojis are interesting if nothing else. One new aspect of this is all playoff cars will carry the driver's emoji and hashtag on the car in the contingency sponsor area in front of the number on the door.
Now you're probably wondering "how will that look?" Your brain might think they're going to go with a subtle decal like the #3 that Harvick's #29 team ran on their car forever. You'd be wrong however because this is NASCAR and everything has to be ostentatious. (Sorry for making you look up that word, Moody).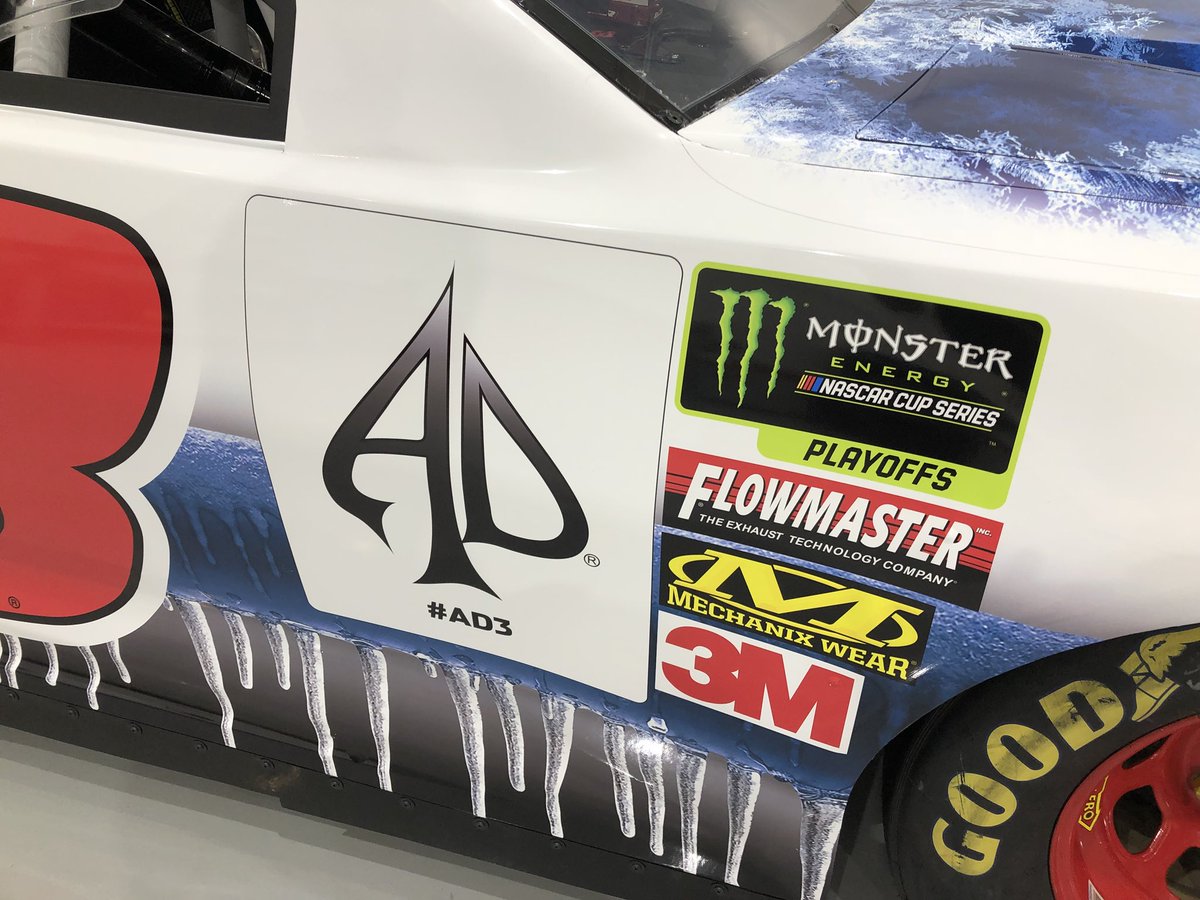 Look at that monstrosity! It's so big, it's so gaudy, it looks like someone that puts a white background jpeg on a black image because they don't know about png. It's awful and every car will have an iteration of that. Yes, even no playoff cars. They'll be carrying the Twitter logo in place of their "own" emoji.
As for the playoff driver emojis, let's take a comprehensive look at them.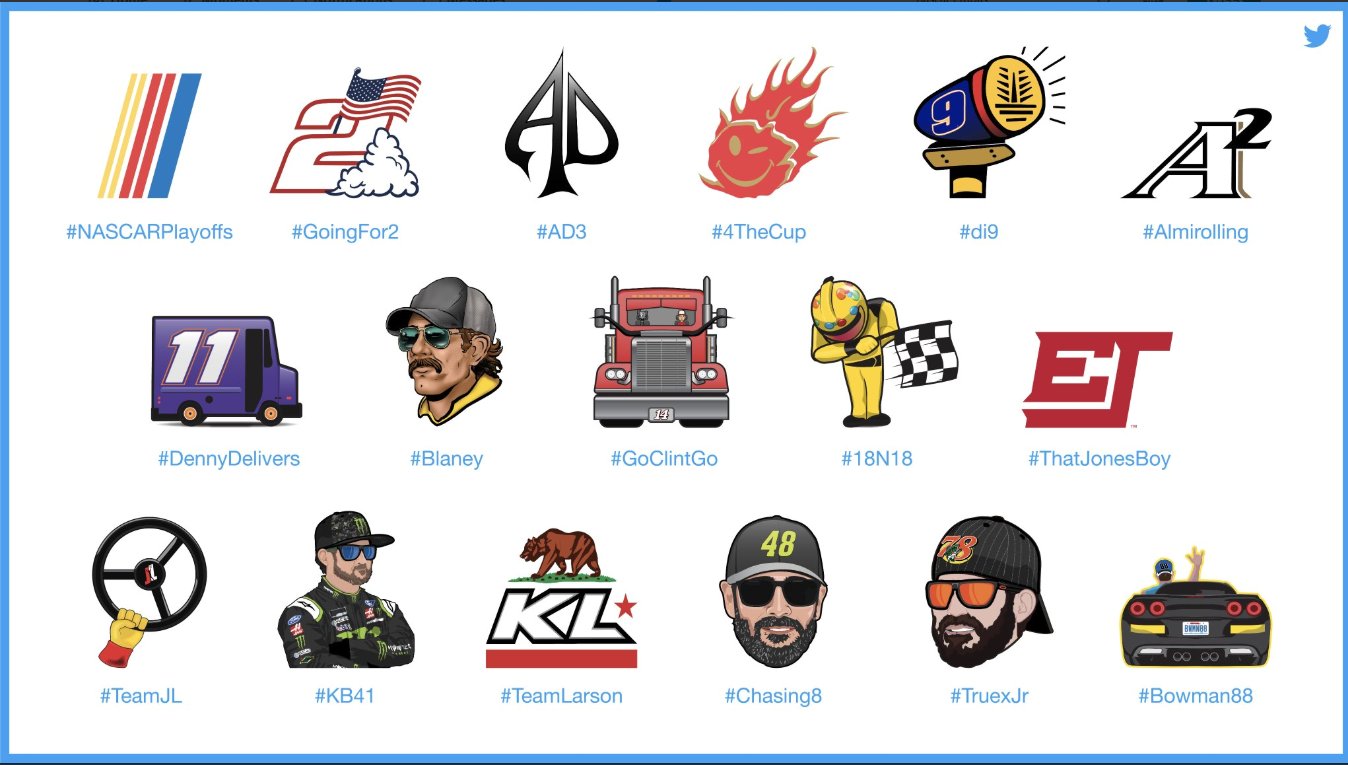 Brad Keselowski: #GoingFor2, get it? Going for his second championship. Emoji is the #2 doing a burnout with the American flag. #merica.
Austin Dillon: #AD3 very creative, very well thought out. The spade emoji made up of A and D. Dillon has the right to bare that emoji on his car. Darren Rovell would love this because of #branding.
Kevin Harvick: #4TheCup Kevin Harvick is trying the win the cup, the other 15 guys? No clue what they're doing. The traditional happy Harvick emoji is back again.
Chase Elliott: #di9 Just today I learned that #di9 means dig. NO ONE ON EARTH COULD HAVE DECIPHERED DIG FROM THAT. This remains the worst hashtag in NASCAR and the legion of Elliott fanboys love. The emoji is a Sireeen like the one at the Dawsonville Pool Hall.
Aric Almirola: #Almirolling actually don't hate the hashtag. The emoji is A squared, get it? His initials are AA.
Denny Hamlin: #DennyDelivers is the first hashtag that is a lie because Hamlin literally never delivers. He's raced his way out of countless championships. The emoji is a delivery truck, because FedEx.
Ryan Blaney: #Blaney, creative. The emoji, however, is terrible. Blaney looks like Ben Stiller from Globogym.
Clint Bowyer: #GoClintGo, a very original hashtag that no one at a sporting event has ever said. Emoji is Clint in a Semi because Clint drives a semi and that's what everyone knows him for.
Kyle Busch: #18N18 it's the year of the #18 M&Ms Toyota Camry according to the Chinese Calendar. The bowing emoji is fire though.
Eric Jones: ThatJonesBoy got a nickname from Ken Squire who didn't even mean to give him one. The emoji is literally Eric Jones' branding which is tremendously boring.
Joey Logano: #TeamJL isn't a great hashtag but it's certainly lettering on the internet. The emoji is the steering wheel with a severed hand which is super brutal and in poor taste as we try to make motorsports safer.
Kurt Busch: #KB41, just look at what I said for Dillon. The emoji is just Kurt with shoulders so there's that.
Kyle Larson: #TeamLarson isn't a memorable hashtag much like 2018 has been for Larson. The hashtag is a logo from Larson's dirt team shirts.
Jimmie Johnson: #Chasing8 is the only factual hashtag presented for us. The emoji is Jimmie's face but it actually looks like him, unlike Blaney.
Martin Truex Jr.: #TruexJr HOLD THE DAMN DOORS WE HAVE A HASHTAG THAT MIGHT BLOW THEM OFF. sheesh. But respect that the hashtag represents they way they do business. Nothing flashy but to the point.
Alex Bowman: #Bowman88, no effort was put into that hashtag. The meeting was ending and someone said "DAMMIT, we forgot Bowman" and they settled on that 21 seconds later. The emoji is him in his Corvette with rookie stripes since everyone is dumb and thinks he's a rookie.
Follow us on Twitter @ApexOff