Dalton Sargeant is out at GMS Racing days before the trucks series playoffs start in Canada. Sargeant missed the playoffs in his rookie season and now due to "unfortunate circumstances" he has parted ways with GMS Racing. According to the statement below Spencer Gallagher will be in the truck the remainder of the season.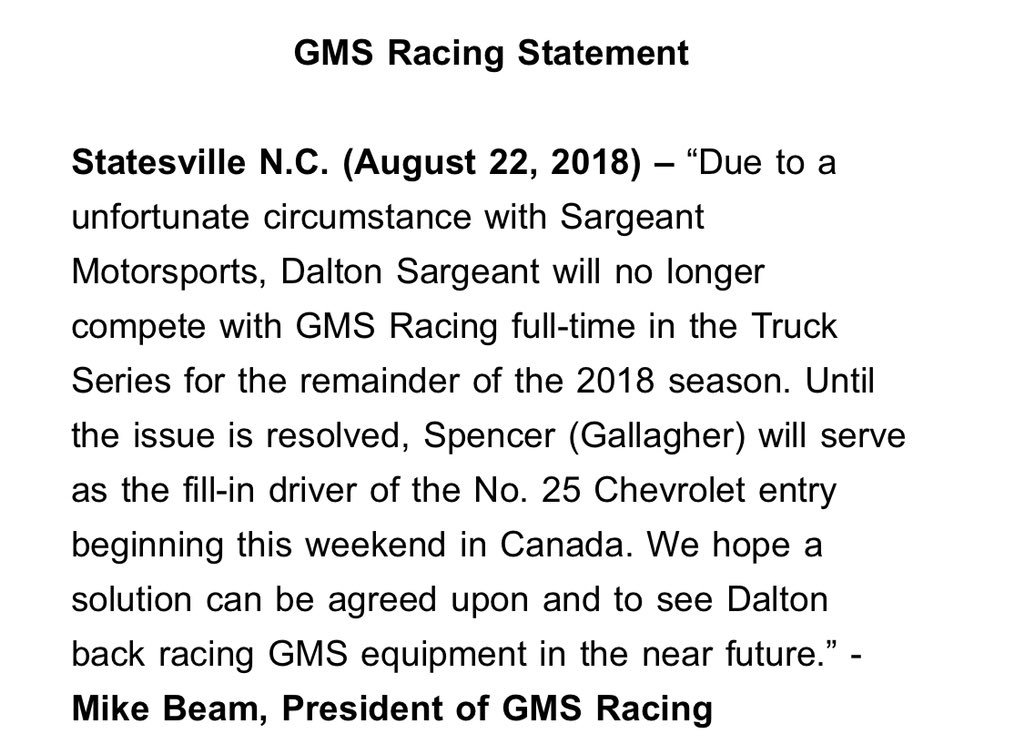 So What Happened?
As previously mentioned Sargeant was in his rookie campaign in the truck series. Through 16 races he recorded 4 Top-10's and 1 Top-5. Not a banner year for the rookie but the increase in competition from ARCA to the Trucks does exist and early in the season, Sargeant struggled with that.
More than likely what happened was either a failure to meet performance standards set forth by his sponsor Performance Plus or a non-payment which resulted in GMS terminating the relationship.
The only reason I mention the performance-based deal is because this termination comes days after the regular season ended and before the playoffs start. Perhaps it's a coincidence or perhaps Performance Plus had a clause that called for a termination if Sargeant did not make the playoffs.
Spencer In
While his dad continues to farm out his son's Xfinity ride to literally anyone not named Spencer, even 62-year old HoFers. That has left Spencer with some free time. Thus then, Spencer will finish out the truck series season in the #25.
Spencer already has a sponsor, he has experience in these trucks and his last name is above the shop. It was an easy choice for Maury Gallagher.
Dalton will land somewhere, it'll be interesting to see if he lands an ARCA ride to close out 2018. Aka come to Salem Dalton so we can talk about this on the podcast.
Follow us on Twitter @ApexOff