After months of rumors, it's officially official. The 2019 Toyota Supra will be joining the NASCAR Xfinity Series next season as the manufacturer joins Ford and Chevy by fielding their "sports car" in NASCAR's second series.
At an unveiling event in the Toyota branded entrance at Daytona International Speedway Thursday night the racing world got their first glimpse of a Supra stock car. It's certainly something, take a look.
Here's the new @Toyota Supra as a @NASCAR racer: https://t.co/0EqlQBK85g pic.twitter.com/Hj25lBYNRY

— Car and Driver (@CARandDRIVER) July 5, 2018
NASCAR has been pushing harder for cars to look more like their street car counterparts. In the Cup series, they've done a really good job with the gen 6 body at making that happen. In the Xfinity Series, the front ends look similar to their road car counterpart but the rear leaves a lot to be desired.
When you look at the Supra street car you can see some of the stylings from the front end in that;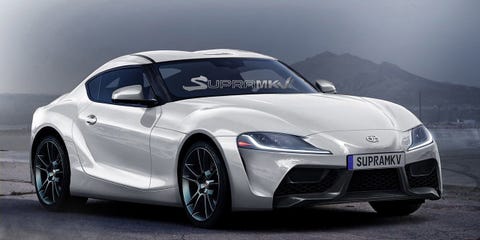 But the rear end of the Supra is a notchback almost and the stock car version is nowhere near that. Also, the front end of the stock car version is way bulkier than the streetcar. It's a bummer that NASCAR requires all the cars to fit nearly the same parameters because it kills any real styling manufacturers could do with the cars. Of course, the rear end of the Camaro and Mustang look nothing like the streetcar as well.
The Supra will make its debut at Daytona in February and TRD will surely have their boys ready to compete when they get there. If someone doesn't run the Paul Walker original Fast and Furious livery at Darlington for throwback weekend then this was all for nothing. Scrap the Supra, they failed us.
One interesting note here is for the first time Chevy and Ford will be running the same car in both series for the first time 2013 in 2019. Meanwhile, Toyota who has always raced the Camry in both series will now have two separate cars in each series. Toyota, always out here being different.
Follow us on Twitter @ApexOff