After what felt like a full fiscal quarter's worth of weekends off of racing, the ARCA Racing Series fires back up this weekend at Fairgrounds Speedway Nashville. The .596 mile oval in the heart of the Music City will host the 200 lap ARCA race following their 100 lap Super Late Model Race and I am absolutely ecstatic to head down to watch the race. Weather is shaping up to support perfect racing  conditions 43 degrees Fahrenheit when the green flag drops at 8 pm.
ARCA has somehow grown to be my favorite racing series to follow. Between the musical chairs that the drivers play, the old school short track racing, and the 'grassroots' nature of it, it is never short on entertainment. Except at 1.5 mile tracks, but we all knew that, and even then it's still the best 1.5 mile 'racing product' you'll see that particular weekend. I've used up my personally set limit of racing buzzwords already.
So after a month and a half off, let's go over the drivers you'll see that are capable of fighting for a win on Saturday night, in numerical order of course.
Chase Purdy- MDM Motorsports
Chase Purdy is such an interesting case to me. He has a great resume of strong starts in solid equipment, but I don't think I've seen him win.  He's one of the many young drivers right now that I think would really benefit from consecutive full seasons in one series. Not necessarily just one series but something full-time for two straight years. He had step one of that, after a full K&N East schedule in 2017. For young guys like him who are flying up through the ranks, coming back to tracks for a second time in the same car and learning from that will go a  long way in their development.
Harrison Burton, MDM Motorsports
Harrison Burton is somehow on the opposite of that spectrum. I feel like I have hardly actually seen him race with my own two eyes, but I ALWAYS seem to hear about him winning. I realize it's the fact that I seem to miss the Truck Series races that he runs. Nonetheless, he has impressed a lot of people within the industry and it has landed him some strong rides that he puts up front. His racing at New Smyrna earlier in 2018 most definitely caught my attention.  His short track experience will be a huge part in the quality of his weekend in the ARCA car.
Christian Eckes, Venturini Motorsports
This is a young dude that I'm really high on. Christian notoriously took a huge win in the 2016 Snowball Derby. Of all of the young drivers coming through the late model touring series, he seems like one of the few who are focused on late model racing. I may be totally wrong about that, but it's the vibe get, and admittedly my Christian Eckes bias comes directly from seeing him dominate the Salem ARCA race last spring. What he did there was nothing short of awesome and I expect to see more of the same this weekend at Nahville.
Riley Herbst, Joe Gibbs Racing
Terrible Herbst's son is back for his second full-time season in the ARCA Racing Series. He snuck in a quiet win last summer at Pocono, which most followers of the series wrote off as a "he's in the best car" win, which I don't disagree with. I wouldn't classify him as nearly experienced on short tracks as most of the rest of the field but I do think he will have some speed on Saturday night judging off the success that the TRD camp has had at every track they've shown up at in the last 8 or so years. Not to get ahead of myself or anything.
Chandler Smith, Venturini Motorsports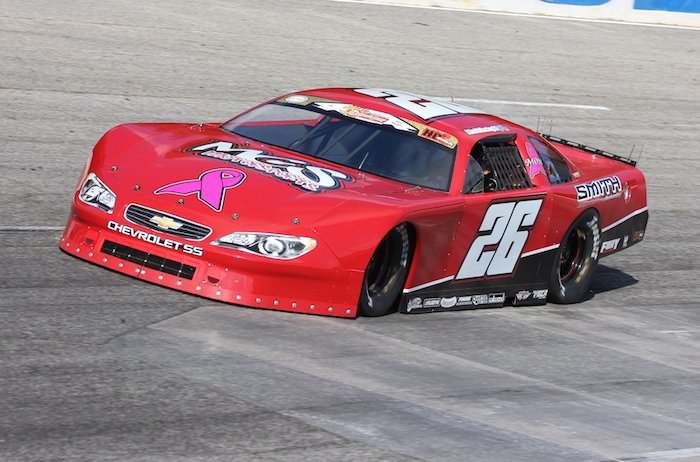 This kid is good. As simple as that. I saw him run very a quality race in the All American 400 at Nashville last fall and was even more impressed with his qualifying run for that race. He receives very high praise from the short track community and his performance at the Snowball Derby impressed me as much as anyone in that race. Not a fan of when people say 'He knows his way around this place', but I think this is a fair thing to say in this case.
Natalie Decker, Venturini Motorsports
Venturini is essentially the Andretti Autosport of ARCA. The most Italian last name that you can think of, entering an insane amount of cars in the big events, and wondering how in the hell they connected with their sponsors to make their deals. Anyways, Natalie Decker caught a lot of attention after her strong run at Daytona, and rightfully so. She seemed to have handled herself well both on and off the track and I hope it was a sign of more good things to come for her this season. Not to keep falling back on this but her short track experience coupled with an insanely experienced team does seem like it would help her get a jump start on speed this weekend.
Travis Braden, RFMS Racing
Travis Braden's talent has gained a lot of respect on the regional touring series and he's won some big time races including the Winchester 400. He definitely over-performed his cars last season in the 27 car and I expect he will be fighting for wins all season.
Sheldon Creed, MDM Motorsports
Sheldon went up a few spots in my personal young driver power rankings after Robby Gordon spoke so highly of him on the Dinner With Racers Podcast. He seems to have a quality sponsor that is helping him work with some top teams and I'm anxious to see how his raw talent can translate to a consistent stock car season along with his Stadium Super Truck season.
Zane Smith, MDM Motorsports
Zane Smith is another one of these young drivers that I'm excited about for no discernible reason. I think it's because of his California persona. He took a very hard hit at Michigan last season and talked his way through the TV interview like he had just cracked open a Kona Lager after a few nice waves. For real though I think he has a chance to be the next social media famous young driver and I fully expect to see him in victory lane multiple times this season.
Michael Self, Venturini Motorsports
Very very sneakily, Michael Self comes into Nashville seeking his third straight ARCA win and is, even a month later, riding a bit of momentum from his Daytona win. The 27 year old Utah native is definitely an outsider on paper considering he is around 10 years older than most of the drivers that I've mentioned. His talent, though, seems to be far from an outsider though as he has proven himself on the 'big tracks' thus far in his ARCA career.
Will Kimmel, Kimmel Racing
A mainstay in the ARCA series for the last 50 plus years, it's nice to see the Kimmel squad back on track with Will behind the wheel heading into a short track. Gauging off of short track qualifying last season, the 69 team had nice speed at tracks where they had a lot of experience. Results wise, 2017 seemed like a bit of an adjustment year for my hometown team, but they will be back to scratching and clawing for better results this season.
I can't wait to brave the cold on Saturday night with my dad at the track, not too much different from we did 15 years ago at Louisville Motor Speedway. Even better than that is that my second favorite race of the whole season will follow only two weeks later at Salem Speedway.
Follow us on Twitter @ApexOff @ZachMiles2 @MattNiehausAO