From the esteemed show, NASCAR RaceHub that once brought you, Larry McReynolds, picking his own son first in the young driver draft comes the 2018 bold predictions.
Bold predictions are meant to be exactly what bold means. Outlandish takes where everyone is like "oh my gosh" if that happens can you imagine? So RaceHub turned to their trusty panel of a former driver, somehow the head of RCR's competition department, perennial NASCAR apologist, and Larry McReynolds.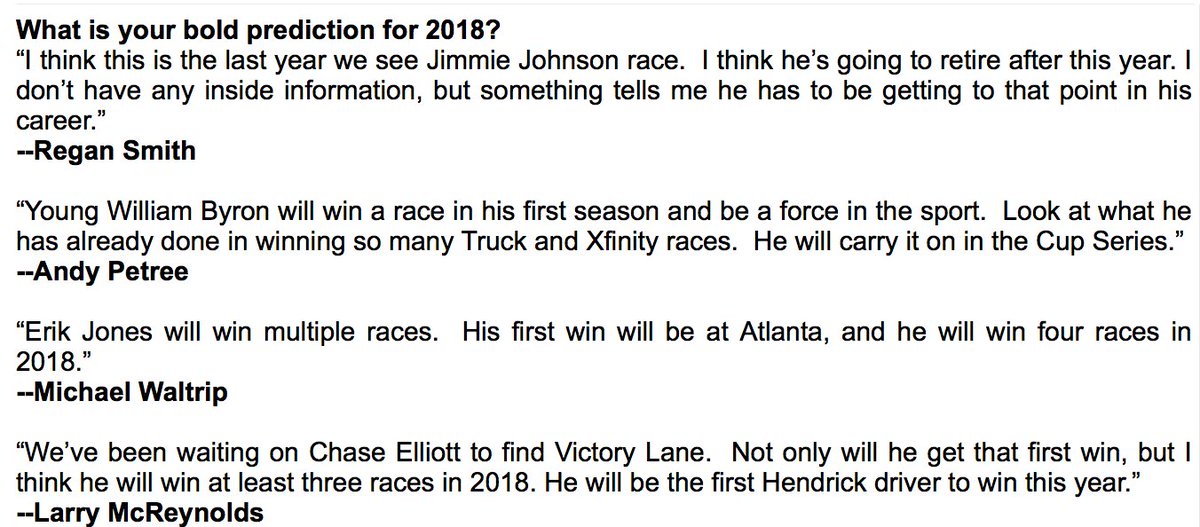 Well, those are certainly takes.
Regan Smith
Former JR Motorsports driver and regular fill-in driver for anyone hurt on the grid in the last 5 years made a bold prediction. Jimmie Johnson will retire after the 2018 season. It's a bold take but not one that is greatly outlandish. If Johnson wins #8 this year he'll almost certainly retire, why not? Leave on top, not many guys get to say that. You never want to stay around long enough to become Darrell Waltrip. No inside information, Regan?
Andy Petree
Saying William Byron will win isn't a bold statement. He's literally won in everything he's raced. Everyone said Chase Elliott would win in his rookie season and we all know how that turned out going into his third season. A bold statement would be Willy B wins before the people's champ and that's a bold prediction you can take to the bank, Andrew.
Michael Waltrip
The man who thought a Michael McDowell, David Reuitemann, and Michael Waltrip lineup was a quality line up is making predictions about winning. Alright then, Erik Jones will win multiple races in 2018 starting with race #2 in Atlanta. Not likely, he could win multiple races at places like Bristol, Texas, and Michigan but not Atlanta. Michael gets one thumb up and one thumb down which still looks the same in an upside-down Toyota Land Cruiser.
Larry McReynolds
Chase Elliott won't be the first driver to win this season. He will FINALLY win this season and will win multiple times but Jimmie Johnson wins Hendrick Motorsports first race of the season and he does it at Atlanta. Weirdly Larry is the most reasonable one of the bunch where historically he has not been. One 6 months until Jew-lie, just had to work that in.
ApexOff will have a complete bold predictions blog out soon as well as a podcast next week over at The Racing Rundown.
Follow us on Twitter @ApexOff